Google's Panda and Penguin updates were aimed at one thin,  improving the experience of Google search engine users. Panda and Penguin gave clear signals on the shift to content and relevancy and the removal of "black hat" strategies.
Google began giving SEO marketers signals about how their model and algorithms would change way back as far as 2011.
Now in 2014, because Google had figured out that visitors hated going to small, spammy looking websites with poor quality content, they decided to target sites that had these characteristics:
Lots of low Page Rank (PR) backlinks
Uneven backlink velocity (backlinks came in to fast or slow)
Too many or not enough keywords
High bounce rates (bad links)
Too many backlinks from the same sites
Poor onsite optimization (no meta tags, img tags, internal linking)
Very few or no outbound links
There were other factors as well, but these are a few of the biggest ones. Even though Google had been moving in this direction for a while, this solidified the fact that automated, spammy stuff didn't work anymore. Internet Marketers who had been using SE Nuke, Xrumer, Article Marketing Robot, Scrapebox, and dozens of other software the gives automated backlinks lost their entire businesses overnight.
Meanwhile, other websites that had been built up "the right way" shot up in rankings. While some marketers were crying their eyes out, others were jumping with joy. But this wasn't quite enough. Even though the Panda updates (which kept coming for a few years) had caused some huge waves, Google wasn't done yet.
According to Matt Cutts Google's spokesperson when it comes to SEO, the websites with a giant bulls-eye for getting crushed were those that were "over optimized".
What did this mean?
Well besides the factors mentioned above, probably the biggest change was concerning incoming backlinks' anchor text. In other words- if 95% of a website's backlinks all had the anchor text of "how to lose weight drinking coffee" or whatever Google thought that looked fishy.
And it kind of does, when you think about it. How many people are going to link to an article they found with anchor text like that?
Instead, a more realistic anchor text profile would include lots of other keywords, like how to lose weight, lose weight fast, lose 10 pounds, how this guy lost 10 pounds, this article, etc.
Something else that Google looked at was this where is most of this website's traffic coming from? Is it ALL coming from my search engine? Or is it also coming from guest posts, Facebook, articles, videos, press releases, and lots of other places across the internet?
Meanwhile, a website that has been over-optimized may be receiving tons of traffic from Google, but none from other places. The Penguin didn't like this, so these websites got CRUSHED.
How to Recover Your Website from Oblivion
If these updates have killed your current websites, there are a few things you should do:
Start driving traffic from other places like YouTube, document sharing sites, press releases, **REAL** blog comments, guest posts, and article syndication. Paid traffic can't hurt either (it doesn't have to be hundreds of clicks per day) Remember that Google likes popular, high quality websites. If your site is getting visitors from all over the internet, that looks a lot better to Google. And before you start thinking that "Google can't see everything", remember that Google owns YouTube. It sees when people click from YouTube to your site… or, when they don't.
Look at your site's bounce rates. Are they extremely high? If so, add some videos for visitors to watch. Make your articles longer and more engaging. Put tools on there for them to play with. The key here is to do everything you can to make your visitors stay longer.
The longer they're reading your site/watching your videos, the more Google will think "oh, people do like the stuff on this site". Go for high quality content, not just quantity.
If possible, change the anchor text of your incoming backlinks. Since this usually isn't possible, greatly vary the anchor text coming in from here on out. Use similar keywords, but don't keep using your main keyword every single time. As mentioned earlier, this just looks more natural. If a bunch of bloggers are linking to something on your site, what are the chances that they're all going to use your main keyword as their anchor text? Extremely low, a.k.a. it doesn't look natural, a.k.a. don't do it.
From now on- diversify, diversify, diversify. You want to drive traffic through quality backlinks from multiple sources with varying anchor texts. That's the name of the game with SEO from here on out. And you know that? This kind of SEO is going to be rock solid for a long, long time. As the internet changes, it will constantly be battling spam. You don't want to be a spammy looking, over-optimized website. Instead you want to look like a solid, helpful site that visitors LOVE, keep coming back to, and sharing with their friends and family.
To keep visitors on your site a lot longer, do plenty of internal linking between pages and posts. Wikipedia does this, and it makes it MUCH easier to find what you're looking for at times. So for example, let's say that you have an article talking about how to train a German Shepherd how to sit. Well if you also wrote an article explaining how to train your German Shepherd to fetch, you should link to that! The person may be interested in reading that, too.
Hop on the social networking bandwagon. Facebook and Twitter are the big ones, but you can use reddit, Stumbleupon, Digg, Pinterest and more. Since the internet keeps moving towards the social aspect, go with the trend.
An Alternative Solution is To Build A New Website!
This is very similar to recovering a new website from oblivion. The advantage with a new site is that it isn't tainted yet! So even though you may be competing with older sites that have more backlinks, if those backlinks are spammy or all have the
same anchor texts- you might beat it in the SERPs (search engine results pages).
  So when you build new sites, here's what I recommend:
Build a site with a brand-able, easy-to-remember name. People probably won't remember something like "howtoeathealthymealsdaily.com" as easily as they'd remember "TrainYourhubby.com" or something like that. Remember that you want to build a solid business not just a search engine optimized site. You're going to be driving traffic from everywhere and telling people to go to "howtoeathealthymealsdaily.com" just doesn't look as good.
Drive traffic through your backlinks. The old school method of back-linking was to find websites that Google knew about it people didn't necessarily look at very much. Forum profiles, Ezinearticles, etc. Those just don't work as well as they used to. Instead, you have to put backlinks where people are hanging out. Write guest blog posts on authority niches then link back to your website. Put up some good videos and create a YouTube channel- again, linking to your site. Write quality articles and get them syndicated across the web. Google doesn't want to just see that you have quality backlinks. They also want to see traffic coming through those links. That makes your site look popular, so they rank it higher in the SERPS (search engine results pages).
Vary your anchor text. Since you're just starting out, this will be very easy to do. Use keywords that are similar to the main one you're going for, but not the exact same. At least, not all the time. So if you're targeting the keyword "how to get your boyfriend back", you can use keywords like get your boyfriend back, how to get your man back, get your boyfriend back fast, win back your boyfriend, win your boyfriend back, etc.
By doing this, you don't look nearly as spammy to Google. You're still saying the same thing (so people will click through to your site), but you are doing it in a more natural, legit way.
Build links with increasing velocities. By that I mean that you start slow- a few links a day- and quickly increase it. A lot of the SEO pros swear more by link velocity than quantity or quality. They say that as long as you are following what looks like a natural pattern, Google will love you for it. So for example, maybe for the first week you put up 3-5 links a day. The next week, you put up 5-7. The next week it can be 7-13 per day. Then you just keep increasing it, until the point that you are building dozens or even hundreds per day.
**Note that this doesn't work as well for older sites with tons of backlinks already. Google has already seen your link velocities bounce all over the place, so it'll be harder to get this to work quite right.
Use social networking sites from the get-go. Facebook, Pinterest, reddit, Twitter- all of these things build solid backlinks to your website. You can drive traffic through them and it makes your site appear as an authority. Plus if you get some loyal fans, it is VERY easy for them to share your site of fan page on Facebook and Twitter! Meet them where they're at- that's the name of the game.
Looking for a professional SEO Company in Halifax?
Hire Halifax SEO Services !!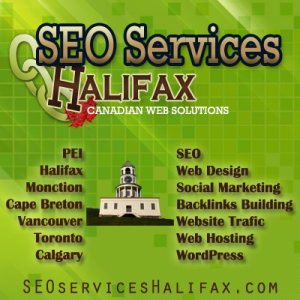 With millions of searches online each day, it is necessary for your business to be found by your local Halifax clients when they are searching for your products, services, or brand in general. Simply building a website will not alone bring traffic.
It is essential that your website take advantage of the latest search engine optimization techniques and tools that SEO Services Halifax has to offer.  As a result, your clients will find you when they search for your keywords. To be truthful, there are only ten spots available on page one, so if they are not finding you, they are finding the competition.
Halifax SEO Services provide web optimization services to all Maritime areas including Sydney, Cape Breton, Halifax, PEI, Moncton, St John, Toronto, Calgary, Vancouver, South Western Nova Scotia, Dartmouth, Annapolis Valley, Lunenburg, Bridgewater, Shelburne, Antigonish, Truro, Kentville, New Minas, Falmouth, Yarmouth, Digby, Bridgetown, Annapolis Royal, Moncton, Saint Johns, New Brunswick, Ontario, Alberta, British Columbia, as well as to the rest of Canada.