Modern web design practices have changed over the past dozen years to keep up with a number of factors including UX (user experience), SEO optimized for the search engines, and mobile friendly.
There are quite a few best practices when building a modern website. I the past 20 years since I started designing websites, things have moved away from old school table-based websites and have now become more about CTA (call to action), blocks, galleries, maps, payment gateways, and robust designs.
Web design, overall, has continued to evolve with increasing attention towards search engine optimization and responsiveness for mobile devices.
Web designers have begun writing content to attract and keep visitors on their websites and then share this content on top social media channels like Facebook.
It really is all about content and the user experience (UX) when it comes to web development. WordPress is one of the best platforms to write content, share it on Facebook, and optimize for Google and other top search engines.
Website Speed
Website speed is now becoming more important than it has in the past. There are so many pictures, galleries, and sliders on websites that a website can easily get bogged down.
The faster a website loads, it stands to reason that the user will have a better experience and not get frustrated with slow loading websites. Local web designers have started designing sites that load faster, not only for desktop computers but especially for mobiles devices. Designing a simple website is now the "norm" in Canada.
Visitors to your website would rather find what they are looking for that have huge slow loading graphics that impede the user's experience on your website. It's all about responsiveness and performance. Delays in website loading will not be tolerated. Website visitors are fickle. If a site loads slow they will simply bounce on to another website. It's that simple!
Visitors just won't stick around if your website loads slow and provides a disappointing mobile experience. Mobile loading speed is an important factor in your website SEO score. Google Best Practices talk at length about mobile-first web design. It's all about building a mobile-friendly website first and foremost.
If you want your SEO page-rank to increase, don't forget about making your website load faster. Try the WordPress AMP plugin for starters.
Above The Fold
Website designers should program websites to showcase the main content "above the fold".
The top part of the website that shows on your computer screen is called the "above the fold" area of the website, so that the user does not have to scroll down to view content. The part of the page that is visible immediately as soon as the website loads is the prime content viewing area.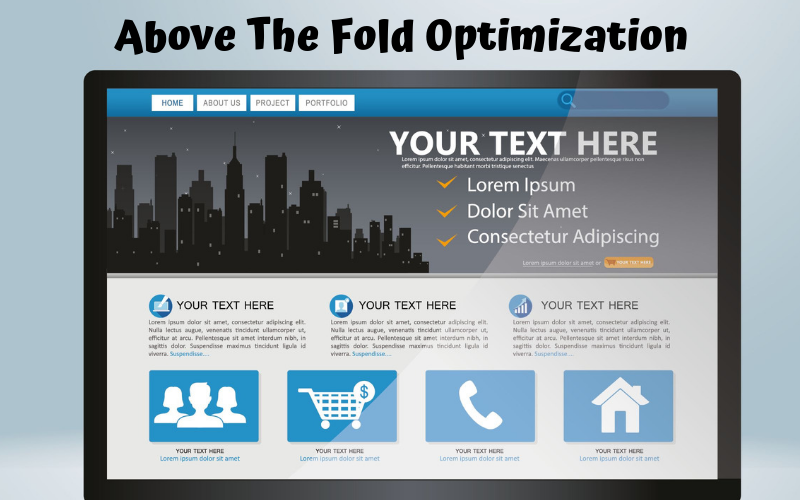 So the "above the fold" web design practice still remains one of the most important parts of any website design process. If you are running a business in Halifax NS, for instance, your web developer should understand this concept and design any and all websites with this in mind. The user experience is an important factor in keeping the bounce rate low and for bringing more website traffic to any products or services website.
Keeping visitors on your website so that they will buy a product or share your content with other users online is now extremely important to web designers and business owners alike.
SEO Friendly Web Design
It's not only important to build a website that has a great user experience, but one that can get found high in Google search engine rankings as well.
You will want to hire an SEO expert that know search engine optimization so that your website meta areas and content are built upon categories and keywords for your market. How else will you get found in Google, unless you tell visitors what your website is all about? Proper keyword placement is how you build an SEO friendly website.
Optimizing a small business website for Google and other major search engines like Yahoo and Bing, will bring more website traffic, and this will show up in any insights and analytic reports.
So by hiring a local SEO agency to increase your Google ranking will put you page #1 of Google for your products or services, and allow your site to be ranked higher than any competitors in the same local market.
Finding an experienced and affordable SEO company that knows Google marketing is not easy, but make sure they specialize in content writing, backlinks building, and other creative marketing techniques.
Keeping Up With Trends
From time to time, you should always update your website to keep up with best practices and trends online.
This doesn't mean that a web designers has to keep re-designing all the websites they have designed the previous year. It just means they should keep an eye on theme updates, new plugins, and modern ways of making a website not only beautiful, but useful for the user as well.
Websites should be designed so they are are unique and engaging! For example, having plenty of white-space all throughout a website, is still an important web design trend for developers not only in Halifax, but right across Canada. White space makes a website easier to read, and again, provides a better user experience.
Designers should concentrate on better looking graphics that load quickly, modern shadows that should image depth. Engaging web design tactics like shadowing and color schemes, can make your images pop so that the users will stay on your website longer. Your products will look much better and no doubt your sales will increase as a result.
Previous web design trends in the 1990's were to design a site that looks minimalist and easy to read. That trend has now come around again where the emphasis again seems to be on flat and modern web design practices.
So by keeping up with the latest website design trends, your web design projects will better, and your customers will be happier. That is great for business in general.
If you are running a freelance web design company, than by keeping up with certain web development trends, you may be able to predict where the future of web design is going.
Your website is a crucial part of your business, so keep up with the latest creative web design trends, or hire a small business web designer to do it for you.
Customized WordPress Website Design
A local web development agency should be able to speak to you about customized WordPress website design. A custom WordPress website with a great looking theme will be a good start in showcasing your products or services, one that will provide the web presence you so desire.
Great looking graphics, fonts, white space, SEO and Mobile friendly plugins will get you where you need to be in bringing a large following to your WordPress website and social media channels.
Branding, marketing and SEO services are all important factors to consider on top of a great looking website. Halifax Web Design is just one web development agency that focus on providing the customer with a user friendly website that is sure to bring new clients to your door.
There are so many types of website styles and designs out there. From ecommerce web design to blog style websites, it may be time to talk to a professional web designer who knows the business.
Check out the following types of website design styles:
WordPress Website Design
eCommerce Store (WordPress, Shopify, PayPal payment gateways)
Professional Content Driven Sites (Copy writing services)
Professional Showcase Sites (Photography, Videography)
Digital Marketing (SEO, Google Marketing, Social marketing)
Video Testimonials (Brand and reputation promotion)
SEO Services (Get found high in Google page rank results)
Social Marketing (Grow your GEO targeted audience on social media channels)
Email Newsletters (Signup Forms, MailChimp Marketing)
Branding (Logo, banners, content, themes, matching graphics & photos)
Reputation Management (Managing posts, articles, comments, reviews, citations)
Website Maintenance (theme updates, plugins, security, backups, content)
---
Get more information or a free web design quote from one of the top rated web design agencies in Halifax – Halifax Web Solutions | 902.304.1302 | support@halifaxwebsolutions.com