If you are looking for a website design company in Halifax, Nova Scotia, you have come to the right spot. We make your web design campaign easy. Just contact us at support@halifaxwebsolutions.com to get started.
We have designed websites for local clients in Nova Scotia for over 12 years and have a 100% satisfaction guarantee on all jobs. We keep designing and coming up with ideas that will make your brand or product stand out from the competition. We only design one website per market/niche so we don't become our own competition. That simply wouldn't work for us or our clients.
We have a team of Nova Scotia Web Designers waiting to get started on your new website right now. Website design is very competitive in Halifax but we go the extra mile once we start working with our clients to give them the personal touch. We are not as big as some firms, but our experience puts us ahead of the crowd in making the website stand out and get found in search engines. Isn't that what it's all about?
Choose from one of our many packages and if you don't see something you like, send me a message personally and I'll design a custom package that suits your company's needs. We will also explain how to add other services to your new campaign if you need them like: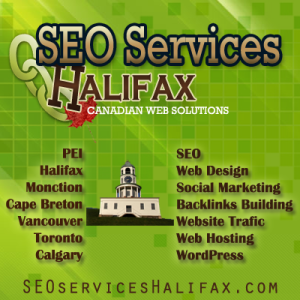 All Halifax Web Design packages come with domain name registration if needed, web hosting, ongoing support, SSL certificate, SEO Services, and much more. We have an open-ended ongoing relationship with our customers.
Halifax SEO Services will get you to Page #1 of Google. It is not all about a functional or good looking website. You customers and potential "NEW" customers must find you first. Based on your keywords and market, in your local area, we can run a 3-6 month SEO campaign to ensure the SERP results you need!
Whether you just need a few pictures added each month or a few new pages added, we are very professional and affordable.
Don't forget to include your web design ideas and company information. We will get right back to you within 24 hours!